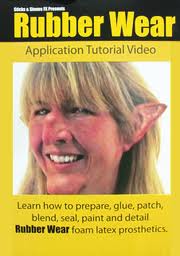 Video is worth a thousand words.
The Rubber Wear application tutorial video shows you more in 30 minutes than you could learn in an all day class!
Prosthetic application is not a scary process and we can prove it with the RUBBER WEAR application tutorial DVD - for the novice and professionals alike.
Don't be intimidated anymore about applying latex prosthetics! learn about gluing down edges, powdering and blending techniques.
In our DVD, special effects make-up artist, Rob Burman will show you three applications from simple to more complex, including multiple prosthetic pieces application. He will discuss materials, techniques and solutions to your needs.
Purchase our DVD through any one of our fine distributors.